Finding leaks in flat roofs has always been one of the biggest challenges for flat roof owners. Many of the problems that might exist within a roofing system remain hidden from normal viewing. Thermal Imaging of Flat Roofs is the most efficient way to detect specific areas of soaked insulation and water located within your flat roof system.
Damage to the waterproofing membrane is difficult and costly to locate. This is because water penetrates the roof system and saturates the insulation layer without leaving a trail.
Water retains heat longer and the areas on your flat roof that are wet will remain warmer for longer than the dry areas on your roof. The wet parts of the roof take longer to cool and will show up on our thermal imaging cameras.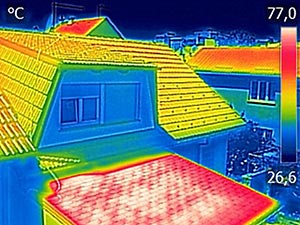 This allows for tactical repairs that avoid costly and disruptive leaks, while extending the lifespan of your roof, and minimising any potential disruption to your home or business.
Fluctuations in roof temperatures act as an indicator that your roof is holding moisture, which can lead to serious damage and leaks. The scan assigns colours to different temperatures, allowing for an easy to read and clear image of any moisture in your flat roof.
This allows the damaged areas of the roof to be repaired rather than replacing the whole roof.
Our team of experts at Kelleher Thermal Imaging has an excellent track record identifying issues with flat roofs using thermal imaging. As Registered and Chartered Building Surveyors we can also make recommendations for the remedy of any defects found in your flat roof.
We provide Thermal Imaging of Flat Roofs in Dublin, Galway, Limerick, and the surrounding counties. To book, simply Contact Us or phone us in Dublin on 01 6856935 or Galway on 091-399935.